Houston Weed Control is one of the most routine things to do for lawns. Lawn enthusiasts everywhere know that behind a good lawn is a great weed control routine. Weeds destroy a lawn's health and beauty in one fell swoop.
Weed control is an essential component of a healthy lawn because it prevents or treats weeds that can quickly take over a landscape.
Houston Weed control, however, is not a standalone method for achieving your dream lawn. Used in conjunction with other necessary lawn care – like fertilizer and proper watering – all work together to create a green and lush lawn.
What is Weed Control? 
Simply put, weed control is an herbicidal application that prevents or treats weeds.
Weeds can be highly damaging to a lawn or garden because they take valuable space, water, and nutrients from other plants. Weeds also grow more quickly than other plants or grass, which equips them to outgrow their competition quickly.
Different varieties of weeds are most prominent throughout the year – another reason that it's so important to have an overall lawn care routine to protect your lawn.
Weed control comes in two primary forms: pre-emergent and post-emergent.
Pre-emergent weeds combat weeds before they germinate and take root. Post-emergent weed control is applied to weeds that have already started to force their way into a lawn or garden.
When to Apply Weed Control to My Lawn in Houston?
Weed control is most effective when applied before the weeds begin to take over a lawn. The method of applying weed treatment before weeds start to grow is called pre-emergent weed control. This stops weeds from growing deep root systems and quickly turning your lawn into a landscape overgrown with weeds.
The best time to apply pre-emergent weed control is in the spring, with regular touch-ups throughout the year.
But sometimes weeds can get ahead of lawn owners, and it can quickly become too late for pre-emergent weed control. In this case, post-emergent houston weed control is the tool for the job. Post-emergent weed control is used to spot-treat individual or groups of weeds growing without damaging the surrounding grass.
When Should Pre-Emergent Weed Control be Applied? 
Pre-emergent weed control is best applied in the spring when lawns are coming out of winter dormancy. This can set up your lawn to have a healthy and happy summer, with minimal spot treatments on weeds that still manage to crop up.
Fall is another essential time to apply pre-emergent weed control to combat winter weeds when your lawn is stressed and not as strong to fight back against weeds for space, water, and precious nutrients from the soil.
How Do you Kill Post-Emergent Weeds?
If you did not apply pre-emergent weed control, or some weeds still managed to sneak into your lawn, there is still an effective option to protect your turf: post-emergent weed control.
Post-emergent weed control is used to spot-treat weeds. The treatment is used on individual weeds or groups of weeds to avoid damaging grass or other plants.
How Do I Get Rid of Weeds in My Garden? 
Controlling weeds in your lawn or garden can be done in two simple ways:
Contact your local lawn care company. Lawn Care companies in your area are skilled and experienced in weed control and often have access to higher-quality products that consumers can find on the shelf. These companies are also often experts on the regional climate and plants, which helps put many lawn-lovers at ease that the right product (and right amount) is being used on their lawn.
Head down to your local garden center and purchase pre- or post-emergent weed control for the DIY method for removing weeds from your turf. Product packaging often contains detailed instructions for how to proceed. It's important to stay true to dosage recommendations and look for any warnings in the product – such as pet and child safety concerns.
Green Bee Weed Control in Lawns
Don't let weeds get out of control in your lawn! Weeds can take most landscapes very quickly, robbing your grass or garden of soil nutrients and water that they need to thrive.
Weeds can also be an unsightly addition to your home or business and ruin the experience altogether. We take care of your weeds quickly and effectively as part of our overall lawn care program. We take the headache out of weed control.
*Limited time offer. Not valid with any other offers.
As a locally-owned and community-trusted lawn care company, Green Bee has been protecting Houston lawns from weeds since 2011, such as dandelions, clover, ground ivy, crabgrass, quackgrass, creeping Charlie, thistle, henbit, nutsedge, wild violets, spurge, chickweed, Kentucky tall fescue, plantain (Plantago major), wood sorrel, spotted surge, prostrate, knotweed, purslane, and foxtail.
About Green Bee Lawn Care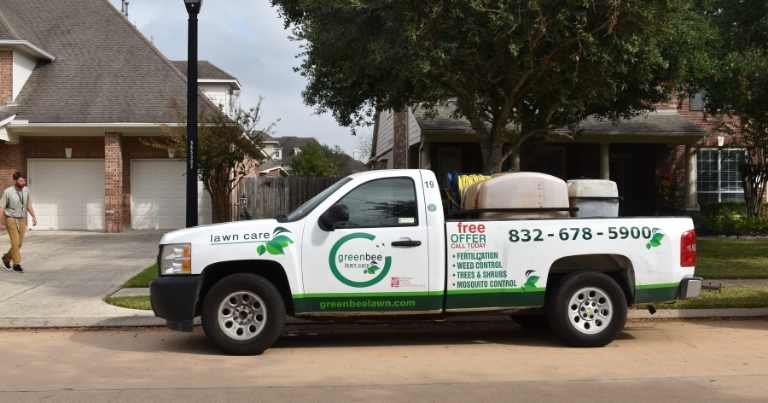 Green Bee Lawn Care is your reliable, family-owned Houston Lawn Care Company. We offer professional lawn care services to customers in the Houston, Texas and surrounding areas. We pride ourselves on providing a one-stop shop for all of your lawn care needs including, weed control, lawn fertilization, aeration, seeding, fire ant control, tree & shrub care, mosquito spraying, and more. Love lawns as much as we do? Browse our lawn care blog for more helpful lawn tips and information.