Understanding Overseeding
Harsh Houston weather can take a toll on even the toughest lawns. With cold winters and scorching summers, giving your lawn some extra care can help it flourish. Overseeding helps lawns grow green and healthy by filling in bare patches and helping existing grass grow strong.
Typically done in the spring and the fall, overseeding is an essential component of maintaining a lush lawn all season long. Overseeding grass can help existing lawns become more robust by increasing the thickness of roots and turf, making it harder for weeds to take over. Thin spots in a yard can also be treated by overseeding to regain growth and maintain an even, healthy look in any lawn.
What is Overseeding?
Overseeding is the process of applying grass seed to an existing lawn without turning over existing grass or soil. Overseeding is best done right after lawn aeration, as this increases oxygen to the soil and produces an excellent environment for the new seeds to take root. To overseed grass, applying an even layer across the lawn is the most beneficial way to help it thrive.
Mowing your lawn shorter than usual before seeding can increase the seeds that reach the soil and can take root. Some lawn owners also choose to add more variety of grass seeds to their lawn when they overseed.
Why Overseed a Lawn?
Overseeding grass is a simple process that can make a huge difference in a thinning or lackluster lawn.
Thicken your turf: Over time, grass begins to thin. Adding other grass seeds on an annual basis can keep lawns thriving year after year.
Extend your season: Overseeding grass is also a great way to add more variety of grass seeds to your lawn, which can extend the time (sometimes by months!) that your yard appears green and healthy.
Protect against weeds: Filling in thin or bare spots on a lawn is another benefit of overseeding. Keeping your lawn thick and lush not only adds curb appeal to your home but also helps keep many common Texas weeds at bay.
How does Overseeding Help your Lawn?
Overseeding has many benefits for lawn health, greenery, and longevity.
Keeps your lawn abundant: Overseeding is a fantastic way to prevent or treat thin or bare patches in a yard by keeping the grass thick and robust. When ugly, thin patches appear, overseeding can restart the growing process right away.
Keeps weeds at bay: By adding grass seed to an existing lawn, it remains thick and hardy. Seeding helps keep weeds from taking root and taking over a lawn because there is limited space for weeds to grow. Thick and healthy grass protects lawns from other vulnerabilities as well, such as insect infestation or soil erosion.
Keeps your lawn colorful: Adding different varieties of grass seed to your yard can extend the lawn's color through the season – sometimes even by months. By choosing hardier seeds in colder climates, lawns will stay green and look beautiful for longer.
When to Overseed your Lawn?
Early spring and fall are the best times to overseed your lawn because these are the times of the year in Houston where the climate is most temperate – not too hot and not too cold.
Temperate weather allows seeds to take root and not be under stress immediately, contributing to a healthy lawn long-term.
The most effective time for lawn overseeding in spring is immediately after aerating your lawn. Aeration and overseeding go together so well because aeration creates the perfect environment for the new grass seed to take root and begin to grow.
Do you Need to Aerate before Overseeding?
Though it is not mandatory to aerate your lawn before overseeding, the Green Bee team strongly recommends it. Overseeding grass is most effective on a freshly aerated lawn because the process creates an ideal atmosphere for new grass seeds to flourish by growing thick and developing a robust root system. By increasing the oxygen to the soil and creating pockets in the lawn, seeds take root and multiply.
Green Bee Lawn Care is dedicated and experienced in lawn care in the Houston, Texas area. We're proud to offer our community a complete list of lawn care services to create a balanced and healthy lawn all season long.
Try our lawn aeration service today to get the most out of overseeding your lawn and helping it thrive.
How to Water your Lawn after Overseeding?
Once the soil has been aerated and overseeded, immediately water the lawn heavily. Watering after grass overseeding is a crucial step to the new seeds germinating and taking root. Watering helps push the seeds into the aerated pockets in the soil and moisten the seeds to start their germination process.
For the two weeks following aeration and overseeding, lightly water the lawn daily to encourage the new seeds to grow. Once this two-week germination period subsides, returning to a regular watering schedule will sustain your new lawn.
Want a professional to handle the lawn care work for you?
Call Green Bee Lawn Care at (832) 678-5900 or request a quote online.
Green Bee provides reliable lawn care services to Houston, Cinco Ranch, Cypress, Humble, Richmond, Spring, Sugar Land, The Woodlands, Tomball, Kingwood, Katy, Jersey Village and many more in the suburban Houston area! View our service area.
About Green Bee Lawn Care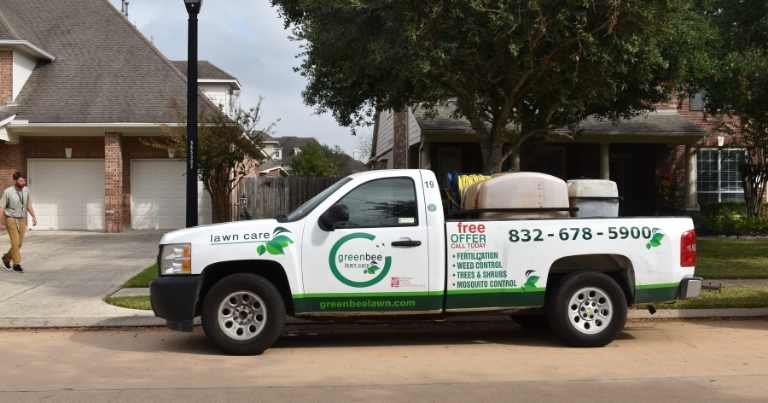 Green Bee Lawn Care is your reliable, family-owned Houston Lawn Care Company. We offer professional lawn care services to customers in the Houston, Texas and surrounding areas. We pride ourselves on providing a one-stop shop for all of your lawn care needs including, weed control, lawn fertilization, aeration, seeding, fire ant control, tree & shrub care, mosquito spraying, and more. Love lawns as much as we do? Browse our lawn care blog for more helpful lawn tips and information.