Lawn Treatment Basics
Homeowners asking, "what is lawn treatment?" may be surprised to find that lawn treatment is not just one lawn care practice. The term lawn treatment applies to a wide variety of lawn care services used to grow green, healthy lawns with thick roots in any climate.
Fertilization, weed control, pest control, and disease and fungus treatment protect and strengthen grass roots and blades, to ensure that lawns stay healthy and damage-free year-round. The purpose of these lawn treatments is to make grass beautiful and functional for the perfect lawn.
Types of Lawn Treatment Service
The types of lawn treatments include fertilization, weed control, pest control, and disease and fungus treatment. Each of these lawn treatment services is critical for making grass thrive on Texas lawns.
A comprehensive lawn care service should customize the use of these treatments together for your lawn's needs as they change throughout the seasons.
Lawn Fertilizer Treatment
Soil naturally provides nutrients needed by grass to grow. However, most soil, especially the soil in Texas, cannot produce all of the nutrients lawns need during their entire season of growth to stay green and sturdy.
Applying a specific lawn fertilizer treatment which is formulated for the time of year and the type of soil gives lawns the nutrients they need to produce the amount of energy it takes for leaves and roots to grow long and strong.
Lawn Weed Control Treatment
Weed control treatments deliver weed-free lawns to homeowners by aiming to achieve two goals. The first is to prevent weeds from ever getting the chance to grow. The second is to eradicate weeds that have already started growing. The most effective treatment for weed control in lawns includes performing a combination of pre-emergent and post-emergent herbicide applications throughout the year.
Pre-emergent herbicides target weed seeds and kill them before they grow into plants. Post-emergent herbicides kill lawn weeds that have already been established and make it harder for them to grow back.
Lawn Pest Control
Lawn pests include but are not limited to beetles, silverfish, millipedes, crickets, spiders, sod webworms, and fire ants. These creatures are known for making homes in the blades of lush green lawns, as they feed on the soil, leaves, and roots and damage the immediate and long-term health of a lawn.
Effective lawn pest control eradicates these troublesome vermin using multiple insecticide applications throughout the year to protect the health and structure of your lawn.
Lawn Disease and Fungus Treatment
There are countless types of lawn diseases and fungi that can quickly infiltrate, take over, and create dead patches of grass throughout your lawn. Lawn disease and fungus kill and damage lawns quickly and can be caused by a wide assortment of common environmental factors and poor lawn care practices. Some of these include overwatering, drought, humidity, temperature, incorrect mowing techniques, and excessive use of fertilizer.
Regular fungicide applications at the appropriate times of year prevent and treat lawn disease and fungus. This lawn treatment is essential to boost your lawn's ability to survive under stress.
Why is Lawn Treatment Important?
Weeds, bugs, disease, foot traffic, and grass's biological need for nutrients and water make it impossible to grow lush, healthy lawns in the Texas climate without consistent lawn treatments.
Combining these practices at the appropriate times of year prevents these challenges from killing grass or stunting its growth.
What are the Benefits of Lawn Treatment?
Lawn fertilization strengthens grass and its root system, making your lawn less vulnerable to disease and more resistant to pests. Fertilizer ensures nutrients are evenly distributed across your lawn, improving grass growth and protecting soil from the stress of environmental factors like rain and drought.
Weeds grow quickly and absorb nutrients as they do, making it more difficult for grass roots to thrive. Weed control not only makes your lawn look better, but it also makes it easier for grass to access the elements it needs to survive and thrive, like potassium, nitrogen, and phosphorus.
Many insects and lawn pests feast on and nest in grass blades and roots, destroying lawns as they do so. Lawn pest control saves you the time, money, and stress that comes with damaged lawns from pest infestations.
Texas Lawn Treatment Schedule by Season
Green Bee Lawn Care has been customizing lawn treatment in Texas for over ten years. Our 8-step lawn care program combines fertilization, weed control, lawn pest control, and lawn disease and fungus treatment to help green lawns flourish in the Houston climate.
Below is the ideal lawn treatment schedule by season crafted by our dedicated lawn care experts for Houstonians.
If you are a homeowner looking for a lawn care service with affordable prices that performs quality work and delivers amazing results, take advantage of the special offer below and call (832) 678-5900 today.
*Limited time offer. Not valid with any other offers. Must buy full lawn care program. New customers only. Valid for lawns 10,000 sq ft. or less
Want a professional to handle the lawn care work for you?
Call Green Bee Lawn Care at (832) 678-5900 or request a quote online.
Green Bee provides reliable lawn care services to Houston, Cinco Ranch, Cypress, Humble, Richmond, Spring, Sugar Land, The Woodlands, Tomball, Kingwood, Katy, Jersey Village and many more in the suburban Houston area! View our service area.
About Green Bee Lawn Care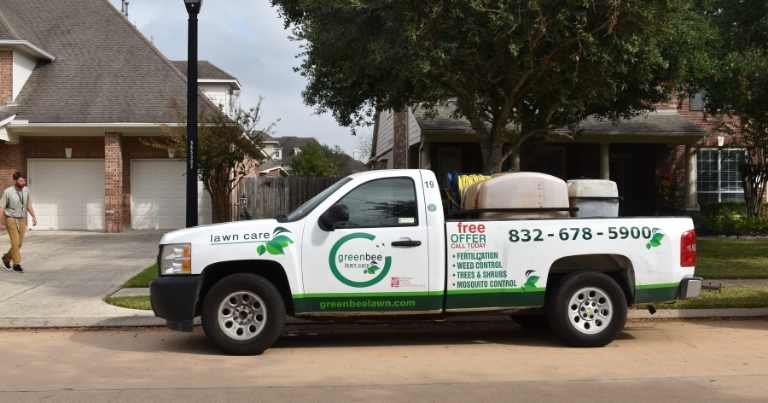 Green Bee Lawn Care is your reliable, family-owned Houston Lawn Care Company. We offer professional lawn care services to customers in the Houston, Texas and surrounding areas. We pride ourselves on providing a one-stop shop for all of your lawn care needs including, weed control, lawn fertilization, aeration, seeding, fire ant control, tree & shrub care, mosquito spraying, and more.
Love lawns as much as we do? Browse our lawn care blog for more helpful lawn tips and information.