The Lawn Aeration Process
When it comes to lawn care, having treatments performed is an essential part of having healthy grass. While many treatments are widely understood, there are a few which are not so well known. If you find yourself asking, "what is lawn aeration?" you are not alone. Lawn aeration is the process of creating small holes in the lawn to allow the grass to breathe. This process lets the roots have easier access to oxygen, sunlight, and nutrients, making the roots grow faster and healthier.
Special machines are usually used to create these holes to make them uniform in size and distance. Soil aeration can also be done manually, but lawn aeration is best done with proper equipment. The benefits of lawn aeration are easy to see: when the roots get more nutrients, the grass grows thicker, more resistant to bugs and disease, and is overall greener and more lush.
What is Lawn Aeration?
If you've ever seen a lawn with rows of small holes, lawn core aeration is at play. Lawn aeration involves using special machinery to remove small plugs from the grass, creating cavities that allow the grass roots to have better exposure to the sunlight, water, and nutrients necessary for fast lawn growth. Aeration is a quick process but leaves results that last for an entire season.
What are the Benefits of Lawn Aeration?
How lawn aeration helps your lawn is simple, and comes with many benefits. First, when soil is compacted, grass has a more challenging time growing. When the ground is pressed together and becomes hard and tough, it can be very difficult for the soil to receive a sustainable influx of nutrients.

Soil compaction can happen easily, such as when a lawn is constantly walked on. By creating holes in the soil during the aeration process, the soil is broken up and loosened, allowing it to breathe easier and gain vital nutrients through the roots. Next, lawn aeration helps prevent and remove thatch. When lawn clippings, dead roots, and other lawn debris accumulate, they can combine to form a harmful substance called thatch.
Thatch prevents nutrients from reaching the grass, causing the lawn to be weak or even have brown spots. Because lawn aeration loosens the soil, it also breaks up any damaging thatch build-up. Finally, when roots have better exposure to the sun, oxygen, and water, grass grows healthier and more robust. This leads to a greener, thicker lawn that is resistant to common lawn diseases, fungus, and pests.
When to Aerate your Lawn?
If you're wondering when to aerate your lawn, the answer is peak growing season. This ensures that the grass receives as many nutrients and sunlight as possible while it grows the most. Peak growing season will depend on your lawn. Cool-season grasses grow most in the early fall or early spring. Warm-season grasses, which are common in Houston, grow most in the late spring or early summer.
Hiring a professional lawn aeration service ensures that you will get aeration done at the perfect time for your grass. But if you elect to aerate yourself, a helpful tip is that if your aeration tool comes back covered in soil, it may be too wet to aerate.
How Long after Lawn Aeration Can you Seed?
Aeration is also beneficial to your lawn because, after aeration, seeding is more effective. Seeding within the freshly created holes and oxygenated grass means the seeds will have a much higher and faster germination rate.
Lawn aeration and overseeding go hand in hand, so make sure to seed within a few days of aerating. This way, the seed will have a better chance of going deep into the soil and receiving fresh nutrients. Overseeding your lawn has many benefits, so make sure to read more about why properly seeding your grass will lead to the best results.
What to do After you Aerate your Yard?
Aerating your lawn is an essential step towards a healthier yard. But, the work does not stop there. After yard aeration, it's important to apply lawn fertilizer. Fertilizer adds nutrients directly into the grass roots, as well as ensuring maximum absorption. Seed your lawn. By seeding the lawn when the grass is most oxygenated, a higher rate of seeds will germinate and grow into healthy grass. When it comes to the soil plugs, don't be afraid to leave them be! The soil will soon decompose and feed your grass.
Try our lawn aeration service today for a green, health lawn that will be the envy of your neighborhood.
*Limited time offer. Not valid with any other offers. Valid for lawns 10,000 sq ft. or less.

Want a professional to handle the lawn care work for you?
Call Green Bee Lawn Care at (832) 678-5900 or request a quote online.
Green Bee provides reliable lawn care services to Houston, Cinco Ranch, Cypress, Humble, Richmond, Spring, Sugar Land, The Woodlands, Tomball, Kingwood, Katy, Jersey Village and many more in the suburban Houston area! View our service area.
About Green Bee Lawn Care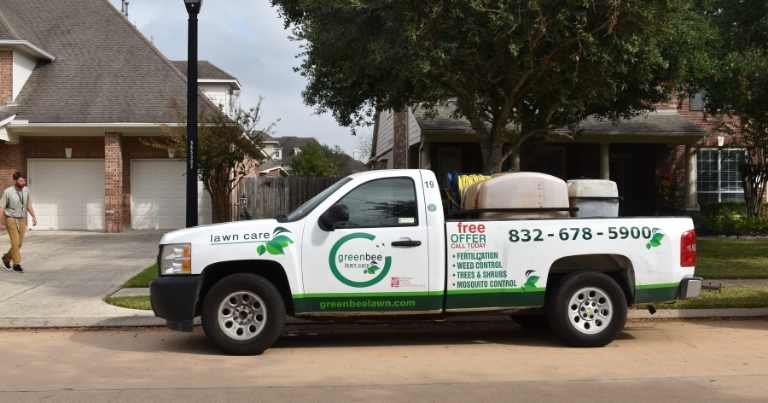 Green Bee Lawn Care is your reliable, family-owned Houston Lawn Care Company. We offer professional lawn care services to customers in the Houston, Texas and surrounding areas. We pride ourselves on providing a one-stop shop for all of your lawn care needs including, weed control, lawn fertilization, aeration, seeding, fire ant control, tree & shrub care, mosquito spraying, and more.
Love lawns as much as we do? Browse our lawn care blog for more helpful lawn tips and information.