How Often Should You Water Your Lawn?
Any lawn owner – or lawn lover – will ask themselves at least once, how often should I water my lawn? Developing the proper watering routine for your lawn depends on the different factors of your landscape: lawn size, grass type, water quality, and more.
Watering your lawn is an essential part of growing and maintaining a healthy and green landscape. Proper watering keeps the grass growing, stay green, and maintain a robust root system. Keeping any lawn thick and healthy also helps the grass ward off invasions from weeds and pests.
In the hot Houston summer climate, watering your lawn is especially important. But properly watering your lawn is more than just setting and forgetting. Just like yards can be under-watered, they can also be overwatered. Learning more about the watering routine that your plant needs will ensure your grass is getting the balance it needs to thrive.
When Should I Water My Lawn in Texas?
The best time to water grass, especially during the hot summer months, is before 10 in the morning. Watering early in the morning helps your lawn thrive in 2 ways:
By watering in the morning, your lawn has the rest of the day to absorb the water. Without sunshine to evaporate excess water, watering later in the day can cause stagnant water and ultimately lead to lawn disease and fungus.
Too much water evaporation can harm your lawn, too. Watering at the hottest part of the day can cause significant evaporation – leaving your grass thirsty and your water bills higher. Plant leaves and grass blades can also become scorched when watered during the hottest part of the day.
How Often Should I Water my Lawn?
Lawns are much more delicate than they appear. Finding the right balance for watering is a critical element in helping your grass grow green and healthy. Both under-watering and overwatering can be dangerous for your lawn. Under-watering your lawn can cause bare patches and even thinning or dead grass. Lawns that have been overwatered are susceptible to lawn disease and fungus, such as root rot.
A healthy lawn needs approximately 1-1.5 inches of water per week to thrive, especially in hotter climates like Houston, Texas in the summer months. Here's a few more Summer lawn care tips for Houston residents.
How Long Should I Water My Lawn Each Week?
Since lawns need 1-1.5 inches of water per week, many factors determine the amount of water your grass requires weekly. Watering 2-3 times throughout the week – instead of daily or only once per week – is the best way to keep your lawn consistently hydrated. Each time you water, it is generally recommended to water your yard so that the soil is wet 6-8 inches under the surface.
The size of your lawn will be the most significant determining factor in the time it takes to water your lawn weekly. To develop a baseline of how long your lawn should be watered, calculate how much water it takes to reach the 6-8 inches of soil wetness. This baseline will tell you the right length of time to water your lawn each week.
A simple way to calculate this is to set a timer for 15 minutes and water your lawn during this time. Next, determine how far the water has seeped into the soil by placing a screwdriver into the ground, remove the screwdriver, and measure the inches down it is wet. Add or subtract time from the 15 minute interval to reach the soil wetness depth, and apply this interval to the other areas of your lawn.
How Much Water Do I Use When Watering My Lawn?
Especially those living in the hot Houston summers, lawns need 1-1.5 inches of water per week to thrive. For grass to absorb this 1-1.5 inches, the soil beneath the surface must be wet 6-8 inches down. Using the screwdriver method above is the simplest way to ensure the water is seeping far enough down into the soil.
It's recommended to water your lawn more deeply 2-3 times a week using a lawn sprinkler more often. Watering your grass by ensuring the moisture reaches 6-8 inches deep into the soil helps that the root system of your grass grows deep and long, which creates a more robust lawn.
How Do I Know if My Lawn Has Enough Water?
Lawns that are adequately hydrated are happy and healthy with a green and vibrant look. But the health benefits of a well-watered lawn go beyond its beauty: properly watering a lawn keeps it strong against weeds and insects. Moreover, regular deep watering of any lawn encourages robust root systems.
There is a simple way to test if your lawn is thirsty to be sure your yard has enough water. To measure this, walk through your grass. If the grass bounces back quickly, your lawn has had enough to drink. If instead, your grass remains lying down from your footprints, you've got a thirsty lawn that needs regular deep soakings of water. However, if your lawn is dry and thirsty, make sure to not overwater it.
Can My Lawn Be Overwatered?
Just like lawns can be under-watered and thirsty, they can also be overwatered. Overwatering your lawn comes with its own dangers and can spiral out of control quickly.
Signs your Lawn May Be Overwatered:
Fungi: One of the most telltale signs that a lawn is overwatered is the development of lawn disease and fungus created by too much moisture always living in your grass. When a yard is overwatered, the grass is unable to ventilate, and stagnant water occurs. Lawn disease and fungus most commonly look like ugly brown patches of grass throughout your lawn. If these patches are not treated quickly, they spread and can ultimately damage an entire lawn.
Lackluster Lawn: Healthy grass requires oxygen as much as it does water. When a lawn is overwatered, it cannot use the pores to absorb oxygen and continue to grow.
Weeds: These unwanted plants thrive in moist conditions. Because weeds can grow more quickly than grass, overwatering puts your turf at risk for higher weed growth.
Insects: Just like weeds, insects flock to overly watered lawns to lay their eggs and breed.
Why is it Important to Water My Lawn?
A proper lawn watering routine is an essential part of lawn care. Maintaining a healthy lawn is not only important for curb appeal, but also for the plants to ward off pests, common weeds, and lawn disease. Watering your lawn is part of an overall comprehensive lawn care program that can help grass thrive into a happy, healthy, and enjoyable turf all season long.
The perfect lawn requires more than just a regular watering routine. Other equally important components of a comprehensive lawn care program include weed control and fertilizer to keep your grass strong and thriving.
Ready to get your best lawn? Contact us today.
Green Bee has been helping residents in Houston, Texas get their perfect lawn with our specially crafted lawn care program for over 10 years. All of our high-quality services are delivered through superior customer service and satisfaction.
*Limited time offer. Not valid with any other offers. Must buy full lawn care program. New customers only. Valid for lawns 10,000 sq ft. or less.
Want a professional to handle the lawn care work for you?
Call Green Bee Lawn Care at (832) 678-5900 or request a quote online.
Green Bee provides reliable lawn care services to Houston, Cinco Ranch, Cypress, Humble, Richmond, Spring, Sugar Land, The Woodlands, Tomball, Kingwood, Katy, Jersey Village and many more in the suburban Houston area! View our service area.
About Green Bee Lawn Care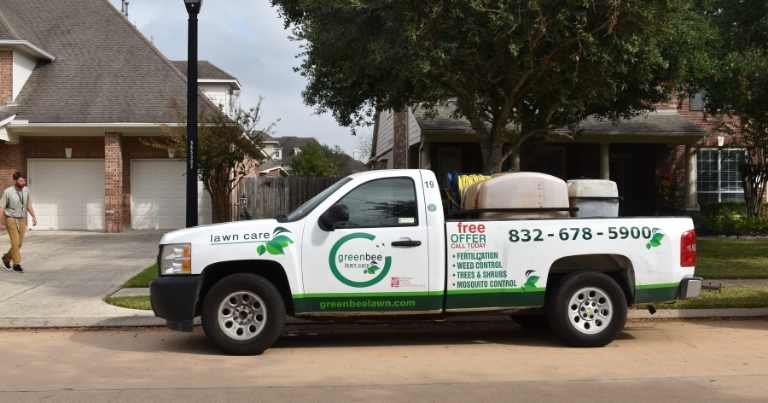 Green Bee Lawn Care is your reliable, family-owned Houston Lawn Care Company. We offer professional lawn care services to customers in the Houston, Texas and surrounding areas. We pride ourselves on providing a one-stop shop for all of your lawn care needs including, weed control, lawn fertilization, aeration, seeding, fire ant control, tree & shrub care, mosquito spraying, and more.
Love lawns as much as we do? Browse our lawn care blog for more helpful lawn tips and information.